Regular price
$280.00 USD
Regular price
$559.99 USD
Sale price
$280.00 USD
Unit price
per
Sale
Sold out
Share
Shipping carrier will require the recipient's signature upon delivery.
*Final Sale. Refurbished - As good as new.
Troy IH Pressure Rice Cooker (Song Joong-Ki Limited Edition)
*Actor Song Joong-Ki Limited Edition includes a photo of Song Joong-Ki and his autograph on the LCD screen and the box.
6 Cup (1.08L)
Metallic Rose Gold Design
Cast Iron (Gamasot) Inner Cooking Pot with Charcoal Coating

 

- Made with 2000°C yongsa method, the pot is implemented to cook Korean-style sticky, nutty rice. The charcoal coating helps prevent odor and keep hygiene.
Regulator Pressure / Safety Device Pressure: 88.3kPa / 166.7kPa

3-Layer Power Rubber Packing retains pressure and heat to prevent the rice from drying due to high temperature.
Cooks 5 types of rice

 

- 

White rice

, Brown rice, 

Multigrain rice

, Barley rice, 

and 

Nurungji.

11 Rice Cooking Presets

 

- Sticky white rice, Regular white rice, Speedy

-Cook white rice, Diet multigrain rice, 

Nutritious multigrain rice, Speedy-Cook multigrain rice, Diet brown rice, Nutritious brown rice, Barley rice, Gamasot (Cast Iron Pot) rice, and Nurungji
Fine-Tune Rice Taste Control enables you to customize the preset settings to adjust the softness and nutty aroma of rice.
Other Cooking Presets

 

- Various types of

 

Jjim,

 

p

orridge, soup, tea, and 

baked dishes. The dish list and recipes can be found in the product manual booklet. 
Smart Auto Keep-Warm and Reheat
Preschedule When to Start Cooking
The First-Ever Speedy Cooking for Multigrain Rice in 29 minutes
One-Touch Auto Cleaning

 

cleanses the nozzle by distributing high-pressure steam through the nozzle
Detachable 100% Stainless Steel Clean Cover (inner lid) 
Voice Notification - Korean, English, Chinese
TFT Color LCD Screen (Graphic FND)

Smart Jog Dial - helps you to

 

quick

ly 

select and navigate
20 Safety Devices
Power Saving Mode
Noise-Free Steam Vent
Can Save Favorite Menu
Buttons are written in English and Korean
Made in Korea
트로이 IH 압력 밥솥 (송중기 리미티드 에디션)
*배우 송중기 리미티드 에디션으로 LCD 화면과 박스에 송중기 사진과 싸인이 포함되어 있습니다.
6컵

 

(1.08 리터)

메탈릭 로즈골드 디자인
챠콜 코팅 명품철정 내솥

 

- 

2000°C용사 기법과 벌징기법으로 만들어져 찰기가 강화된 내솥. 숯의 탈취, 향균기능으로 위생적입니다.

3중 파워패킹이 3중으로 꽉 잡아줘 압력은 세지 않고, 보온열은 더 강하게 밀폐시켜 처음한 밥 그대로 유지
조정장치 압력 / 안전장치 압력: 88.3kPa / 166.7kPa
5가지 밥 종류

 

– 

백미, 현미, 잡곡, 꽁보리밥, 가마솥밥, 누룽지
11가지 취사 방법

 

- 백미 찰진밥, 백미 일반/기타, 백미 쾌속, 다이어트 현미, 건강 현미, 다이어트 잡곡, 건강 잡곡, 잡곡 쾌속, 꽁보리밥, 가마솥밥, 누룽지
미세 밥맛 조절 기능 -  기본 설정되어있는 불림 시간, 가열 온도를 조절해 취향에 맞게 밥맛 (부드러움, 구수함)을 조절할 수 있습니다.
다양한 요리 메뉴

 

– 

영양찜, 죽, 수프, 차 등. 자세한 내용은 메뉴얼북에.
스마트 보온, 재가열 기능
예약 취사 기능
세계최초 29분 대 잡곡 쾌속 취사
원터치 자동세척

 

– 고압증기로 강력한 스팀을 분사하여 노즐의 막힘 방지, 눈에 안보이는 세균 세척
100% 클린 스테인리스 스틸 클린커버
음성안내

 

– 영

어, 한국어, 중국어
TFT Color LCD 스크린 (Graphic FND)
스마트 다이얼로 빠른 메뉴선택
20중 안전 장치 채용
즐겨찾기 기능
절약보온/절전모드
최저 소음 증기 배출
한국어와 영어로 쓰여진 버튼
Made in Korea
Specifications
Item #

CJH-PC0606i-RB

Cup Size

6 Cup


Size

267 × 376 × 264 mm

Weight

14 lbs


Voltage

120V 1100W
Shipping & Delivery

Items are generally shipped within 3 business days following order confirmation. Please allow up to 2-3 additional days for rural zip codes, high season, holidays, and sale events. You will receive a shipping confirmation email as soon as we ship your order.

Delivery:

USPS First Class (processing time + 1-3 business days from the date of shipping confirmation)

USPS Priority Mail (processing time + 1-3 business days from the date of shipping confirmation)

UPS Ground with Signature Required Option (processing time + 1-6 business days depending on the destination—see the map below)
View full details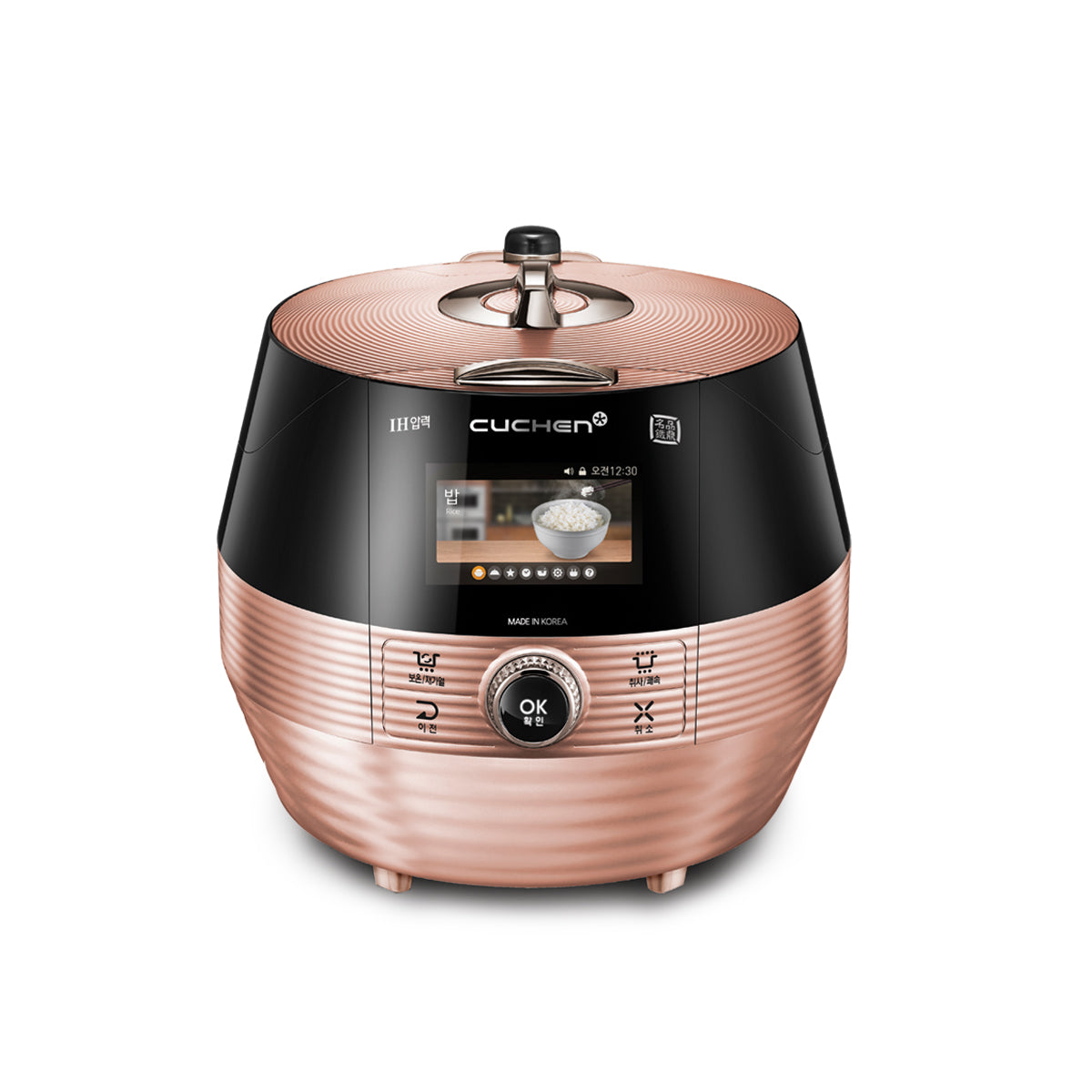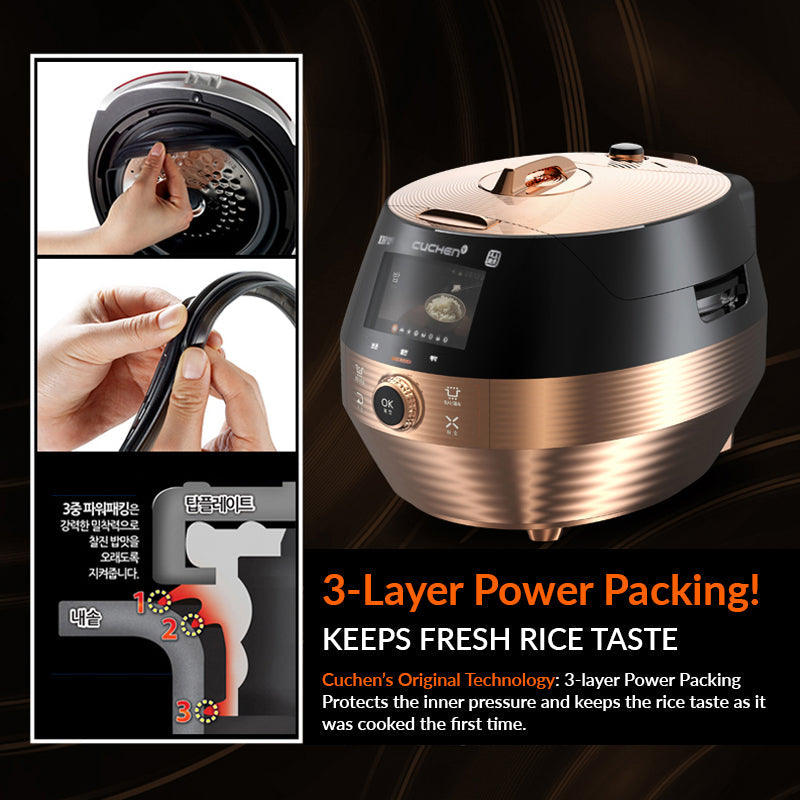 Buy Now Pay Later

We provide an option to split payment in 4 installments with Shop Pay. For any orders between $50 and $3,000. Credit scores aren't affected.

Learn more

Return

You have 14 days* from the date of delivery (delivered date marked by the courier) to decide if an item is right for you. To be eligible for a return, your item must be unused and in its original packaging. *Only for items eligible for return.

Learn more

Warranty

We provide warranty of 1 year for domestic rice cookers, 6 months for commercial rice cookers from the date of purchase. Refurbished rice cookers do not come with warranties.

Learn more