Regular price
$399.99 USD
Regular price
$399.99 USD
Sale price
$399.99 USD
Unit price
per
Sale
Sold out
Share
Shipping carrier will require the recipient's signature upon delivery.
121°C IH Pressure Rice Cooker

6 Cup (1.08L)

Cuchen's premium object design - Harmonious design that matches the surroundings, inspired by pottery.

New

Thermo Guard Technology

- 

Enhanced insulation, prevents water/dust penetration into the inside, power saving, retains inner heat while blocking the outer cold, BPA-FREE Silicone guard ring, solid 3-tier airtight structure prevents hazardous malfunction.

New 

2.1 Ultra High Pressure + 121°C Optimal Cooking Temperature - Cook mixed/brown rice as soft as white rice, 121°C is the ideal temperature for perfect rice taste, cook white rice 30% softer & black bean rice/mixed rice 33%. softer. Cook white rice in just 13 minutes.

New 

BLACK 121 Inner Pot with Premium Dyking Coating, an innovative new material, resistant to the 2.1 ultra high pressure, water, and saline

- 

can safely cook various dishes as well as rice, is scratch-resistant, premium Dyking coating enables sanitary use, optimized for high heat and pressure

—is durable even at sudden temperature changes

, non-stick coating promotes sanitary use.

New

 

Power Lock System for the 2.1 ultra high pressure

 

- x2 larger locking parts with 61% of power to tighten the pressure even more. The power lock helps the upper plate and inner pot to be tightly pressed, supporting the two tiers of insulation.

New

 

Power Compressed Rubber Packing - Upgraded the 

double rubber packing system in other Cuchen rice cookers 

to a single rubber packing to retain the 2.1 ultra high pressure. x2 Durability and safety, easier to clean.
Cooks 3 types of rice

 

-

 

White rice

, Brown rice, and 

Multigrain rice.

9 Rice Cooking Presets - Sticky white rice, regular white rice, speedy cook white rice, multigrain rice, speedy cook multigrain rice, healthy rice with beans, brown rice, defrost frozen white rice, defrost frozen multigrain rice, multigrain rice for salad, various steam dishes, and juk (porridge).

New

 

3-Level Soaking / Simmering Feature

 

-

 Can customize up to 16 levels of rice's stickiness, softness, and savoriness (nutty flavor).

Defrost Frozen Cooked Rice

 

- No need to put cooked rice on the keep-warm mode for a long duration. Cuchen's Special technology will defrost the rice like it's freshly cooked.
Fine-Tune Rice Taste Control 

enables you to customize the preset settings to adjust the softness and nutty aroma of rice.

Other Cooking Presets

 

- Various types of

 

Jjim,

 

p

orridge, soup, tea, and 

baked dishes. The dish list and recipes can be found in the product manual booklet.
Smart Auto Keep-Warm and Reheat
Preschedule When to Start Cooking
The First-Ever Speedy Cooking for White Rice in 13 minutes / Multigrain Rice in 29 minutes
Detachable Stainless Steel Clean Cover entirely made of x3 high strength stainless steel -

 provides high durability

One-Touch Auto Cleaning

 

cleanses the nozzle by distributing high-pressure steam through the nozzle
Voice Notification

 

in English, Korean, Chinese
Notification of When to Replace Rubber Packing
Notification of When to Initiate Auto-Cleaning
Power Saving Mode
Noise-Free Steam Vent
20 Safety devices
Made in Korea
2.1 초고압 121도 IH 압력밥솥

6컵 (1.08리터)

쿠첸의 21년형 NEW 프리미엄 디자인 - 인테리어에 녹아드는 조화로운 디자인,   도자기에서 영감을 얻은 프리미엄 오브제 디자인
The new thermo guard – 보온력 강화, 밥솥 내부 물/이물질 침투 예방, 열에너지 손실 감소, 내부 온기는 잡고 외부 냉기는 차단, BPA-FREE 재질의 실리콘 가드링, 견고한 3중 밀폐 구조로 고장의 위험으로 부터 안전하게
1.2 초고압 / 121도 취사 - 잡곡밥도 백미처럼 부드럽게, 초고압력이 만든 밥맛의 절대온도 121도, 백미는 30% 더 부드럽게, 검은콩밥은 33% 더 부드럽게, 초고압으로 백미쾌속을 13분만에 고슬한 백미밥을 드실 수 있습니다.
혁신적인 고압 전용 신소재 2.1 압력과 수분에 강한 BLACK 121 내솥

 

– 염수분 내구성 (밥은 물론 다양한 요리도 안심사용), 스크래치에 강함 (프리미엄 다이킹 코팅으로 깨끗하고 위생적으로 사용), 고열/고압력에 특화 (급격한 온도변화에도 강한 내구성), 들러붙지 않는 논스틱 (안심하고 사용할 수 있는 청결성)
2.1 압력을 위한 쿠첸의 새로운 기술 파워락 시스템 - 단순하게 하지만 더 강력하게, 파워락이 옆에서 잡아주어 상부 플레이트와 내솥을 강하게 밀착, 패킹이 위아래로 붙어 초밀착 지지, 기존 33% 휠 구조 락 시스템는 다르게 61%힘의 파워락 시스템, 내부 커버와 플레이트 2중압력 지지
편리하고 깨끗하게 사용하는 간편 탈부착형 풀 스테인리스 클린커버 - 3배로 올라간 고강도 스테인리스 재질, 고강도 스테인리스로 보다 견고해진 내구성
파워 압착패킹 - 수명은 2배 더 길게, 세척은 더 편리하게, 국내최초 2.1 초고압을 견디기 위한 일체형 패킹으로 안전성과 내구성이 향상, 기존 2개의 패킹과는 다르게 일체형 패킹
3가지 밥 종류

 

– 

백미, 현미, 잡곡
10가지 취사 방법

 

– 

백미 찰진밥, 백미 고슬밥, 백미 쾌속, 혼합 잡곡밥, 잡곡 쾌속, 건강콩밥, 현미100, 냉동보관 백미, 냉동보관 잡곡, 샐러드용 잡곡, 만능찜, 건강죽
미세 밥맛 조절 기능 -  기본 설정되어있는 불림 시간, 가열 온도를 조절해 취향에 맞게 밥맛 (부드러움, 구수함)을 조절할 수 있습니다.
불림 3단계, 뜸 3단계 기능 - 각 0~3단계 기능으로 총 16단계의 쫀득, 부드러움, 구수함 조절 가능
다양한 요리 메뉴

 

– 갈비찜, 잡채, 

죽, 떡볶이 등. 자세한 내용은 메뉴얼북에.
스마트 보온, 재가열 기능
예약 취사 기능
세계최초 29분 대 잡곡 쾌속 취사 / 13분 대 백미 쾌속 취사
스마트 자동세척

 

– 고압증기로 강력한 스팀을 분사하여 노즐의 막힘 방지, 눈에 안보이는 세균 세척
패킹 교체 알림
자동 세척 알림
음성안내

 

–

 한국어, 영어, 중국어

스마트 자동세척
자동보온/재가열 모드
절약보온/절전모드
20중 안전장치
Made in Korea
Specifications
| | |
| --- | --- |
| Item # | CRT-RPK0670WUS |
| Cup Size | 6 Cup |
| Weight | 15 lbs |
| Size | 266 x 356 x 273mm |
| Voltage | 120V 60Hz / 1200W |
| Warranty | 1 year from the date of purchase |
Shipping & Delivery

Items are generally shipped within 3 business days following order confirmation. Please allow up to 2-3 additional days for rural zip codes, high season, holidays, and sale events. You will receive a shipping confirmation email as soon as we ship your order.

Delivery:

USPS First Class (processing time + 1-3 business days from the date of shipping confirmation)

USPS Priority Mail (processing time + 1-3 business days from the date of shipping confirmation)

UPS Ground with Signature Required Option (processing time + 1-6 business days depending on the destination—see the map below)
View full details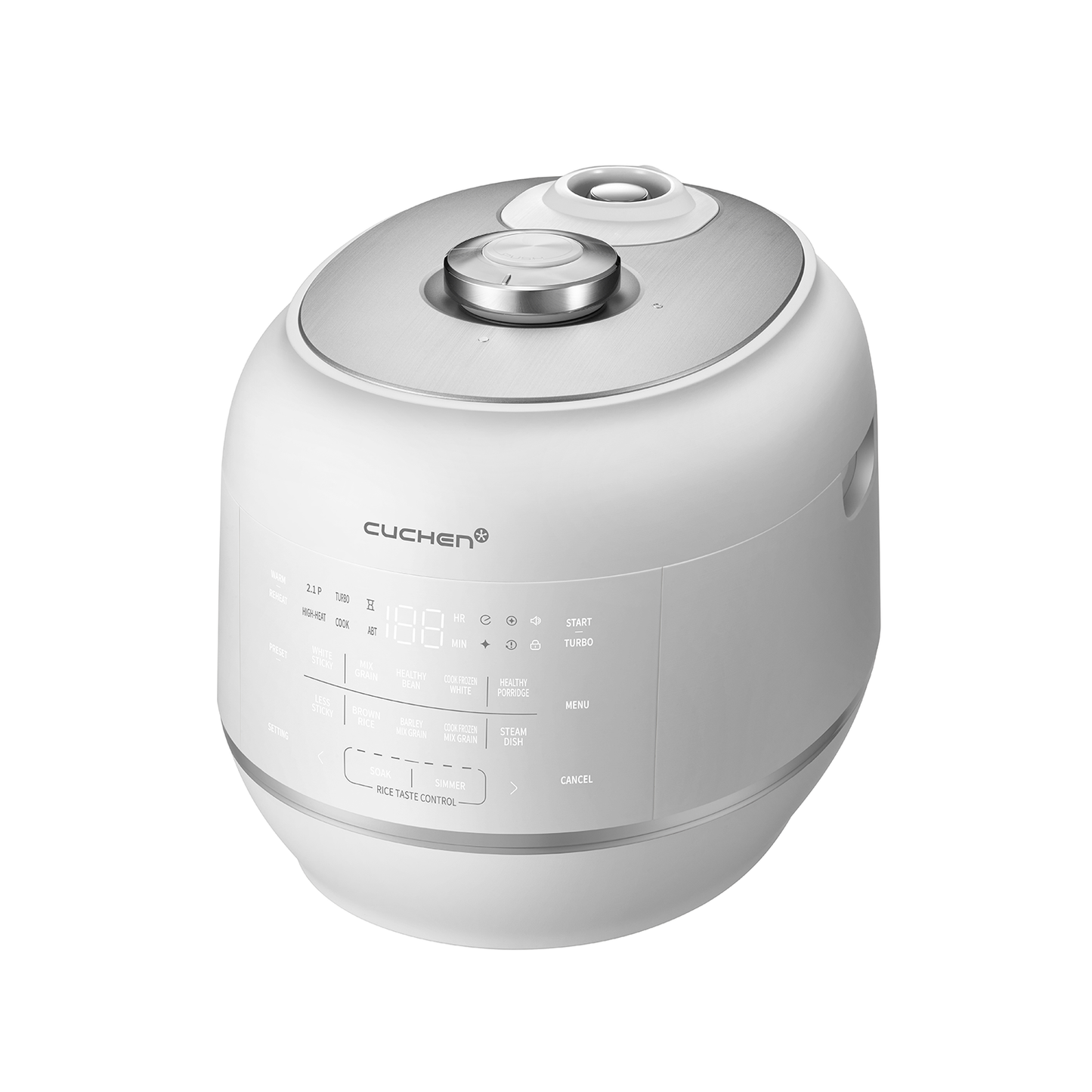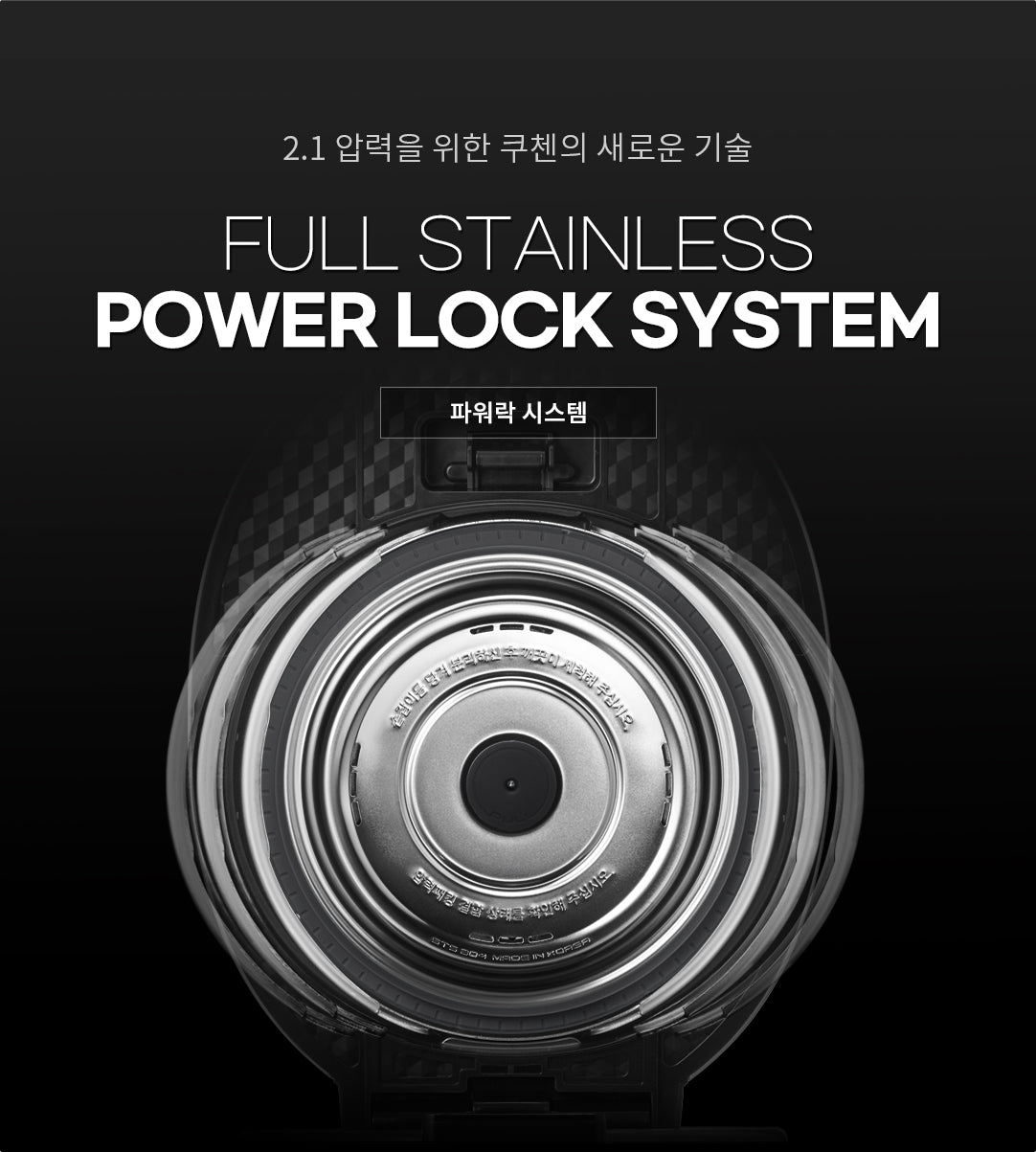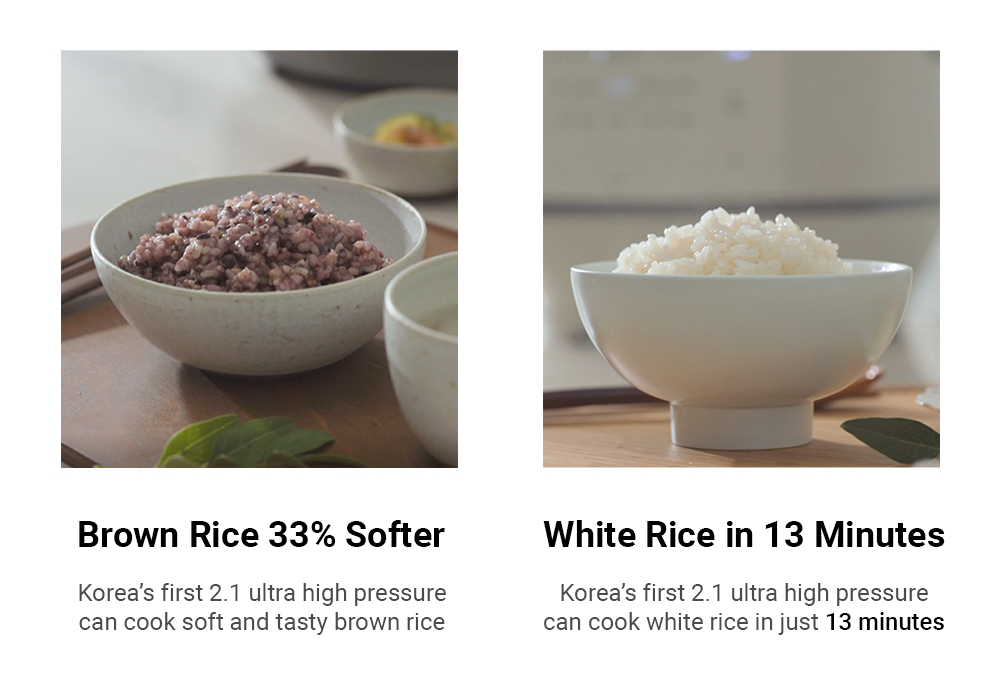 Delicious for brown rice, too
The first time I used my new rice cooker, I prepared 2 cups of brown rice. I have the English model of the 6-cup IH Pressure Rice Cooker. The controls are easy to understand and use. The instruction manual is in Korean, English, and Chinese. It is easy to follow, too, and it contains dozens of recipes. The brown rice cooked in 50 minutes, and it smells and tastes delicious. This rice cooker is better than any others I have used before.
Buy Now Pay Later

We provide an option to split payment in 4 installments with Shop Pay. For any orders between $50 and $3,000. Credit scores aren't affected.

Learn more

Return

You have 14 days* from the date of delivery (delivered date marked by the courier) to decide if an item is right for you. To be eligible for a return, your item must be unused and in its original packaging. *Only for items eligible for return.

Learn more

Warranty

We provide warranty of 1 year for domestic rice cookers, 6 months for commercial rice cookers from the date of purchase. Refurbished rice cookers do not come with warranties.

Learn more